LPFFA 100th Anniversary Challenge Coin - QTY (5 Coin Pack)
LPFFA100Pack5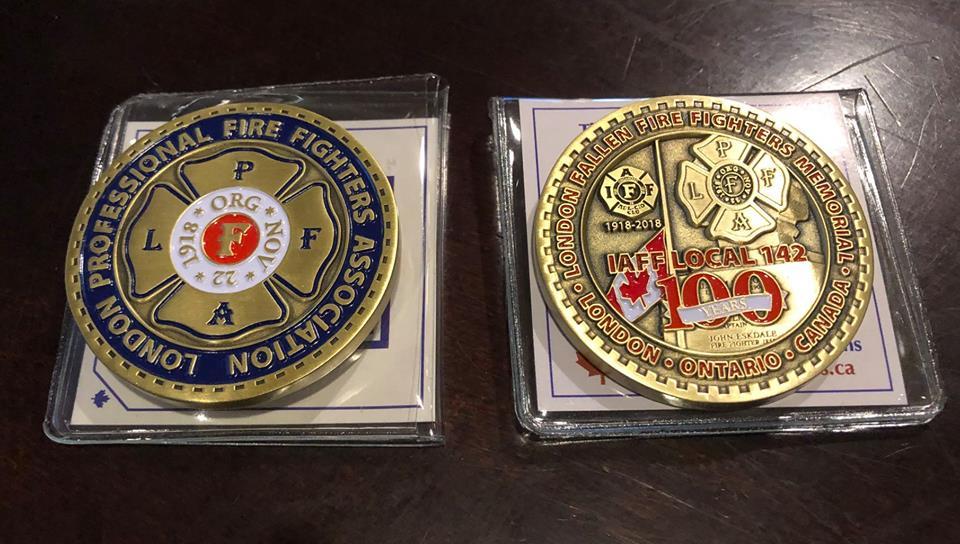 On November 22nd 2018 the members of the London Professional Fire Fighters Association took a moment to celebrate our 100th Anniversary since the formation of IAFF Local 142. The Association commissioned the minting of a commemorative challenge coin for current and retired members of the Association. Challenge coins have an organization's insignia or emblem on them and carried by the organization's members. Traditionally, they are given to members to prove membership when challenged and to enhance association morale.
Our coin has the LPFFA crest on one side and the LPFFA Memorial Monument of the other. The LPFFA was proudly founded at IAFF Local 142 on November 22nd 1918. All proceeds from the sales of our coins will go toward improvements and the upkeep of our monument and for various LPFFA sponsored charity initiatives.

Thank you to Sharkzcoins for all your help in designing our 100th Anniversary coin.
Save on shipping when you buy the 5 coin pack.